DR. JOHN A. HENDERSON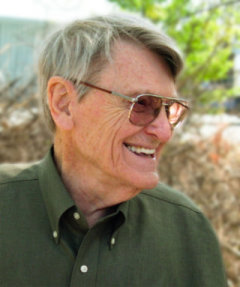 ASHEVILLE – Dr. John Henderson, 85, died Sunday, August 31, 2008. He was born in Leland, Illinois to the late Dorothea and Melvin Henderson. He graduated from the University of Illinois College of Medicine at the age of 21 with high honors in Alpha Omega Alpha honorary medical fraternity. He was certified in the American Board of Surgery and was a Fellow of the American College of Surgeons. He served in the United States Air Force for 31 years retiring in 1972 at the rank of Colonel. During his Air Force career he was a flight surgeon and a general surgeon serving at various bases in the U.S. from New York to California as well as bases in England, Spain, and Japan.
Following his retirement from the military Dr. Henderson practiced general surgery in Asheville, NC. After closing his office he assisted other surgeons until 2006 and served as a Buncombe County Medical Examiner until the time of his death.
Henderson was the volunteer Medical Director of Planned Parenthood, was a volunteer at The Health Adventure, served on the Policeman's Pension Board, and served on the American Red Cross Medical Advisory Committee. He was Chief of Staff at St. Joseph's Hospital and Chief of Surgical Services at St. Joseph's and Memorial Mission Hospitals. He was legislative chairman, president elect and president of the Buncombe County Medical Society in Asheville. He served on numerous committees at the NC State Medical Society.
Dr. Henderson is the author of three books: God.com: A Deity for the New Millennium, FEAR FAITH FACT FANTASY, and Judging God.
He is survived by Ruth, his wife of 62 years, his three children Robert, Christine and Jeanne; eight grandchildren and three great grandchildren.
A service will be conducted at Arlington National Cemetery at a later date.
Memorials may be made to the Buncombe County Medical Society Foundation, 304 Summit Street, Asheville NC 28803, to The Health Adventure, P.O. Box 180, Asheville, NC 28802-0180 or to Care Partners Hospice, P.O. Box 25338, Asheville, NC 28813